We're starting up our Homechool year learning about the Inuit tribes of North America!

My kiddos have been so excited to learn about the Eskimos, and all the amazing creatures of the arctic.
We're using Evan-Moor History Pockets as a basic guide for our studies on Native Americans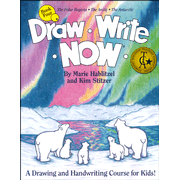 As well as Draw, Write, Now Book 4 (Animals of the Arctic)
And of course a slew of library books (Click Here for our picks)
We've already kicked off our year of learning so we've got some great projects to share with you!
Starting off with these fun Puffy Polar Bears:
We've even included a recipe for making your own Puffy Paint, and Texture Paint here!!
Very Simple, but quite beautiful results!
Stay tuned for more Arctic Fun!!!
(Psst….You did see our adorable Eskimo File Folder Game didn't you?)