As Spring starts to pop up everywhere we think of fresh new beginnings! Butterflies are an essential and often the first visitor of spring.  Diving into a unit about Butterflies is a great theme for students of all ages. Use our free Butterfly unit study to create hands-on learning opportunities in your homeschool and classroom.
Learning About Butterflies:
The following questions and ideas can be worked on independently with older children or worked on together if need be. This is just a start, and we have tons of resources below to help your students answer these questions!
What is it called when a caterpillar sheds its skin?
What is a chrysalis?
How many stages are there in metamorphosis?
What do caterpillars eat?
What do butterflies eat?
How far can a butterfly travel?
How long is a butterfly life cycle?
Name 10 Butterfly Species
Butterfly Life Cycle with LEGO
While we have a Safari Butterfly Life Cycle Set it can be more fun and helps the information stick even better when your child can use their hands and imagination to create their own version. Sometimes we use playdough, sometimes we draw it, and sometimes like today we use LEGO (TM) to create a fun and easy butterfly life cycle.
You will need:
Various sizes of individual LEGO (TM)Bricks
Photo of life cycle for Reference
Use small single studs to represent a few eggs for the start of your life cycle. Two or three 4×2 bricks in a row make a great caterpillar.
Repeat the last step but run them vertically and add a long single for a stem for your chrysalis. Finally, let your child make a spectacular butterfly, you can use whatever colors you wish for your model, we chose to go with the colors of a Monarch, one of our favorite
Butterfly Preschool & Kindergarten Printables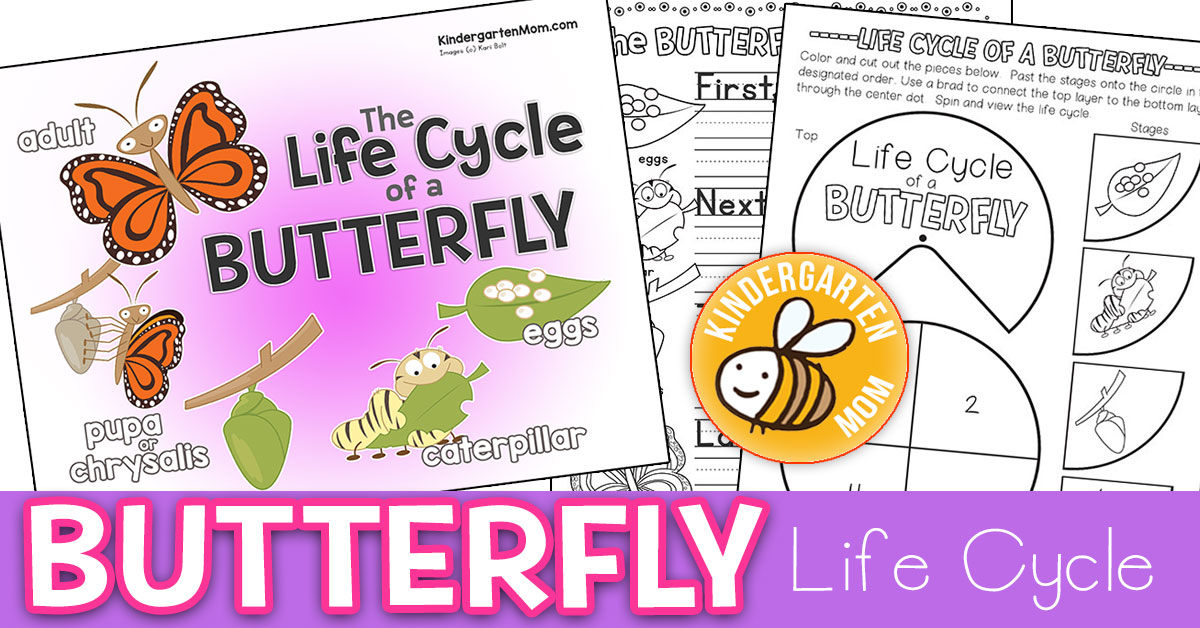 Your little learners will love these free Buttefly Life Cycle Printables from KindergartenMom.com This beautiful full-color illustration shows the life cycle of a butterfly, from egg to adult. This chart looks beautiful hanging in your classroom and is a great reference for the butterfly worksheets and activities below. There are multiple follow up activity pages, sequencing stories, a life cycle spinner and more.
Butterfly Life Cycle Printables:
If you're looking for butterfly life cycle worksheets that are simple, yet effective for teaching all about butterflies, we've got you covered! You'll find these butterfly worksheets free to use and easy to print with an instant download. These are great for designing your own Butterfly Science Notebooks as students can add color to them as needed.
Learn about mimicry with this free printable research guide. Students identify the visual differences between a monarch butterfly and a viceroy butterfly. Older kiddos can research and report interesting facts they learn along the way. Print this free science worksheet from SuperStarWorksheets.com
Raise Your Own Butterflies!
Probably the most hands-on fun that you can have during your Butterfly Unit Study, is to raise your own butterflies.
You can purchase a butterfly habitat and raise butterflies indoors. The habitats come with a certificate for free caterpillars and you can watch them grow and turn into butterflies right in your own living room! We have done this year after year with painted lady butterflies and we get return visitors from subsequent generations every spring!
Plant Your Own Butterfly Garden:
Did you know that you can order FREE Milkweed seeds to start your own butterfly garden! Have your child write out a SASE to send away for free milkweed seeds to help feed the butterflies in your area. This is a great way to learn about butterflies year after year!
Besides milkweed, there are a variety of plants and bushes that butterflies love! Try cultivating these specific varieties in your own backyard. You can even find Butterfly Garden Seed Mixes to get started quickly! Look for Asters, Goldenrod, Butterfly Bush, Hyssop, Liatris, Flox, Black Eyed Susan, Lavendar, Cosmos, Sunflowers, Bowles Mauve, Sedum, and Zinnea.
Butterfly Art Project for Kids
Students of all ages are thrilled to create this stunning butterfly art project. This is a simple Butterfly art project as is only uses a piece of black construction paper, our free butterfly template, and some chalk pastels. You'll find that your students will want to create a classroom full of butterflies with this technique! Click Here for a full photo and video tutorial.
Butterfly Sensory Bin Ideas
Grab some plastic or silk butterflies and turn a simple bin into a magical butterfly sensory bin that helps your child understand a little more about butterflies by examining replicas, looking at books, hearing your explanation about how they and caterpillars feed on flowers and more.
You will need:
A shallow plastic bin
Plastic butterflies
Flowers, sticks, etc…
First have a fun scavenger hunt in the yard looking for flowers, grass, sticks, and other items to use as a base in  your bin. Give your child a basket and collect things they think butterflies might use for eating, resting, laying eggs, etc..
Let them arrange their findings in the sensory bin.
Add plastic butterflies and caterpillars and you are done!
Talk about what else butterflies need? Maybe water? Mist your flowers with water from a spray bottle so they can drink from the "dew"
While your child is playing you can discuss the life cycle, read a book on butterflies, and just enjoy them, trust me busy hands listen well!
Butterfly Art Project for Preschoolers
This craft is not just for preschoolers, older children really enjoy this one as well, let them do as much of the project as they can on their own so they can truly make it their own.
You will need:
Thick white paper (Optional Template)
Black construction paper
Craft Paint
Craft glue
Scissors
Directions:
Fold a piece of thick paper in half then open it back up,lay flat on table on top of newspaper to catch any mess.
Dribble several different colors of craft paint on one half of the paper, stay a few inches from the edge of the paper.
Close the paper and let your child press, squeeze, and rub on top of the closed paper to spread the paint around on the inside.
Open and allow to dry completely.
Close the paper back and draw a simple butterfly shape, cut it out leaving the folded edge uncut.
Cut a long body for your butterfly out of black paper and secure it to the center with glue
Butterfly Books for Preschoolers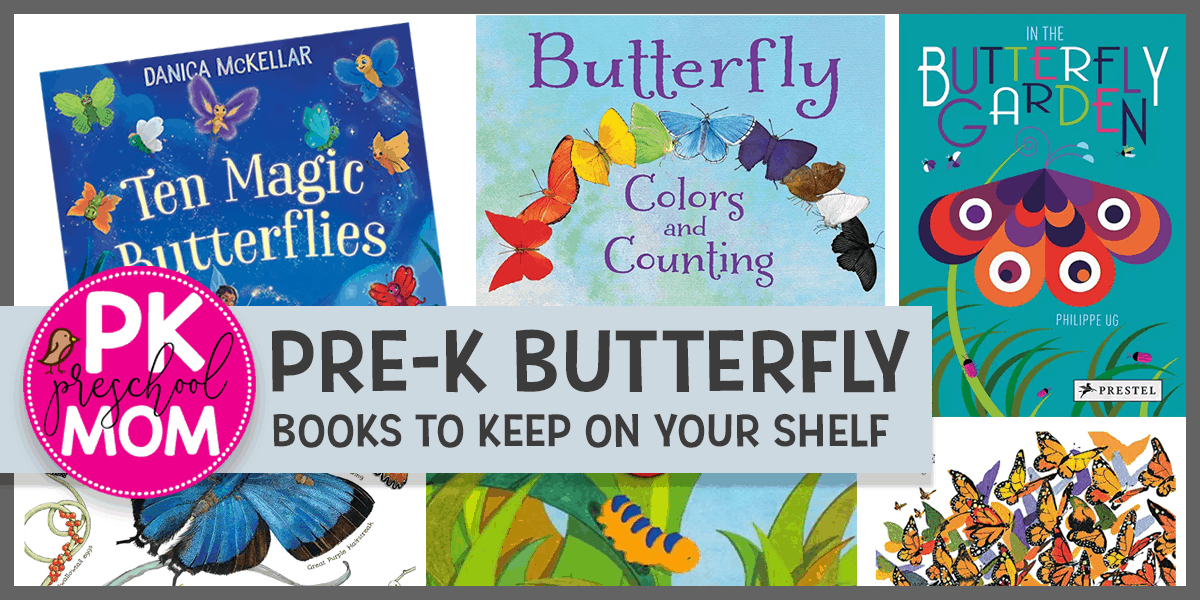 Wondering what the best thematic books are for your preschoolers? I'll share with you one of my favorites — butterflies! Butterflies are such fun insects to explore with your little one. Here are the 10 best butterfly books for preschoolers that include counting, nature's miracles, and beautiful images!