Spring is a fantastic time to dive deep into a study of pondlife, here we are taking a closer look at frogs and learning all about them. I hope you will hop along on this journey with us and enjoy teaching your own little froglets all about these amphibians.  From books to a hands-on life cycle project you will find loads of fun ideas here for a mini Frog & Toad Unit Study
Frog Sensory Tray
To change it up from the typical deeper sensory bin, I set out a simple sensory tray instead. Grab a tray ( found at Dollar Tree) or a large baking sheet, add a little water, a few plastic frogs, rocks, and moss for ground cover and you have a great hands-on habitat for your children to play in and discover. Add a magnifying glass, tweezers, lilypads, or anything else you like for exploration.
Hands-On Frog Life Cycle-Rather than just complete a worksheet labeling the different stages of a frog's life cycle why not really get into it? Make it memorable by putting more into it with just a few simple supplies.
You will need:
Thick white paper
Green stamp pad
Green markers, pens, or colored pencils
Look up the frog life cycle online or in one of your books for reference. We chose to do eggs, tadpole, tadpole with legs, froglet, and frog for ours.  Press your finger into a green ink pad (a green marker will work in a pinch) and press it into a thick white paper to stamp out each of the different cycles, use a thumb for the larger full-grown frog. Next use markers or pens to add details like a tail, eyes, legs, etc…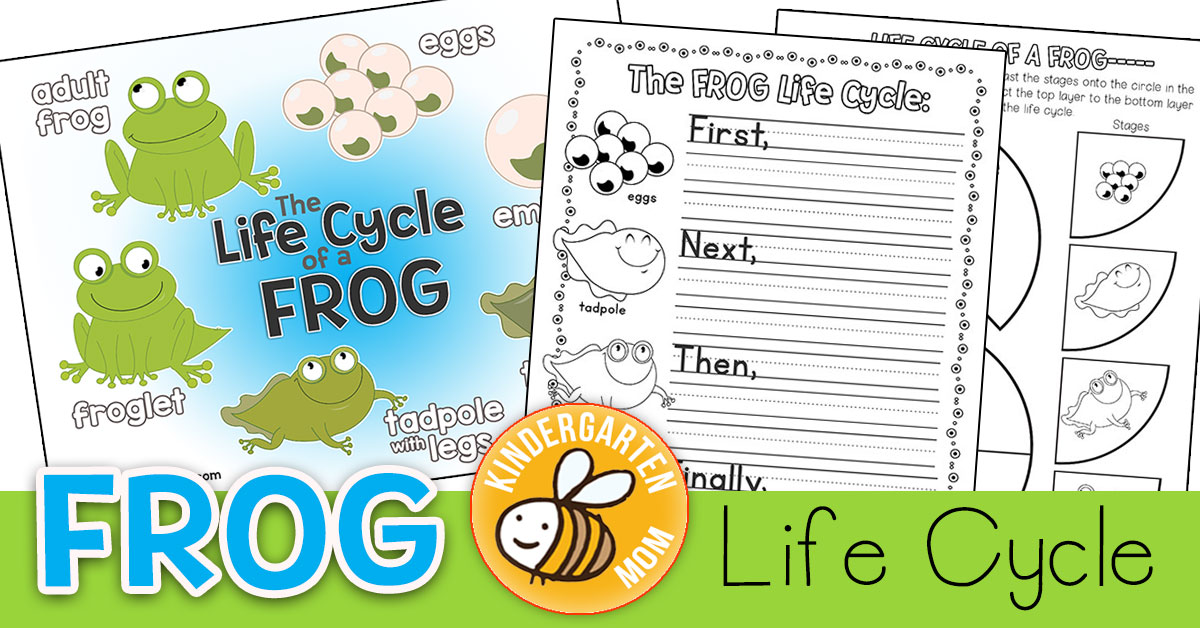 Grab these fun and fabulous life cycle of a frog worksheets — not only will your child learn more about the life cycles of living things, you'll learn a thing or two! This set includes a free printable chart, life cycle minibook and a sequencing writing activity.
Frog Hopppin' Math Activities
Math practice is always in order whether you have a full math curriculum you love or you do a lot of hands-on math. This fun and simple activity is a great way to stick with the frog theme and get some math practice in. I have kept it very versatile so it can be done with children from preschool through middle school by changing out a few simple things.
You will need:
Green construction paper or craft foam
Scissors
Permanent Marker
Plastic Frog
Lilypad Math- Cut craft foam into lilypad shapes about 2"x2". Write numbers 0-9 for younger children and go even higher if you are working with older children. Include symbols like +, -, x, and %.
Preschoolers- Line numbers up in order and have your child hop from number to number as they count with a plastic frog. Call out numbers and have them land on the proper number to work on number identification.
Early Elementary- Use your numbers and symbols to create simple math problems for children that they can answer verbally, by placing a lilypad with the correct answer after the equal sign, or let them write the answer on a dry erase board. Hop the frog from lily pad to lily pad to practice skip counting by 2's,5's, or 10's.
Upper Elementary/Middle School- Use the numbers on the lilypad to create more complex problems. Add a decimal point or use fractions and have them add, subtract or simplify them.
Store them in a zippered baggie and pull them out for practice during your study.
Additional activities for your frog study:
Consider reading Frog and Toad or The Celebrated Jumping Frog of Calaveras County as a read-aloud for your study.
List 10 different varieties of frogs and find out where they are native to, find each location on the globe.
Use the following words for spelling and vocabulary.
Tadpole
Spawn
Froglet
Lilypad
Amphibian
Larva
Pond
Cattail
Gills
Croak
Lily Pad
Toad
If weather permits and you have one near you head to a local pond and see if you can spot frogs in any of their life stages. Check carefully along the bank, frog eggs rise to the surface and look like a big glob of clear jelly with black dots inside. Try to catch and release tadpoles so you can get a better look at them. Head outside at night and see if you can find tree frogs, they are attracted to light and will often be right on your own porch. Listen to the sounds of frogs near the pond and in your own back yard.