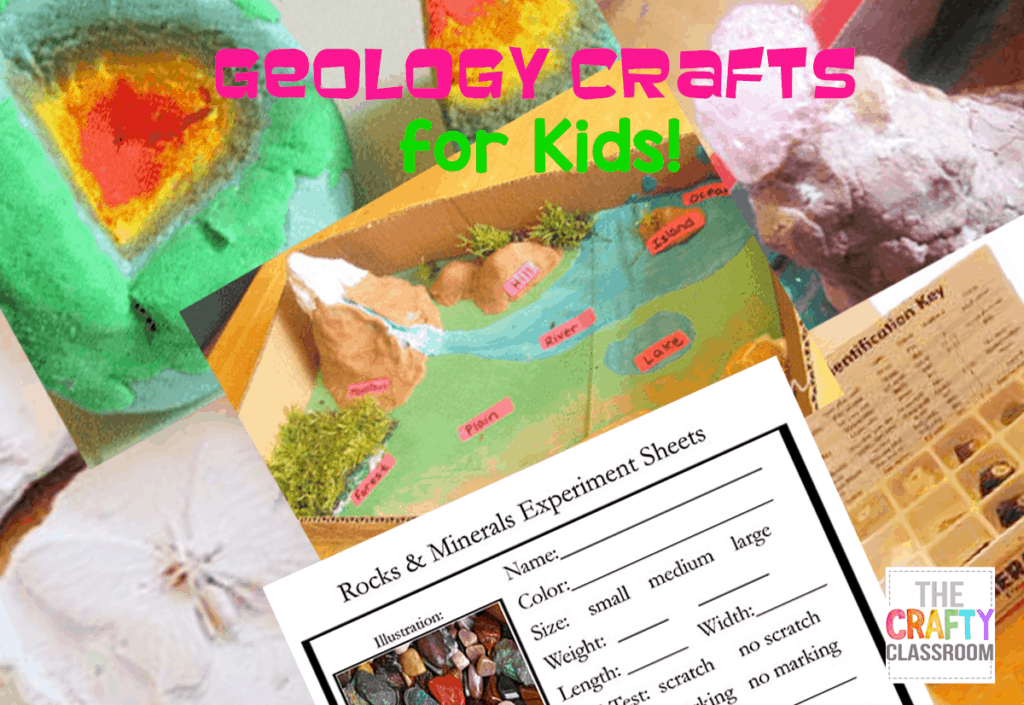 A lot of the featured crafts for our geology unit are actually activities! Children can explore the world around us with hands on activities and experiments. Come along and make an erupting volcano, a land form diorama, and a model of the Earth's layers. Get cracking with geodes and discover the beautiful secrets hidden inside these plain looking "rocks." Make fossils, explore and study shells, then set up a complete Rock and Mineral Discovery center. For children who are especially interested in this topic I recommend looking to see if there is a rock hounding group nearby. Here in the pacific northwest there is a great group
---
Suggested Resources for a Unit Study:
---
Layers of the Earth
Many children are visual learners and the use of models is a great way to introduce important information. Use this fun model of the earths layers to learn all about the different components of our wonderful world!
Break Your Own Geode
Handy with a hammer? Break open these seemingly lackluster rocks to reveal the beautiful crystals inside. These special rocks are inspirational for all types of lessons with your children!
Landform Diorama
What better way to learn about landforms then to make your own diorama featuring the different ones that you study! These make fantastic end of the unit, or presentation projects.
Make Your Own Fossils
Making fossils is great fun, and really not as "troublesome," or "messy" as you might think! This craft really drives home the point in how fossils are formed and leaves children with a lasting impression!
Make an Erupting Volcano
This is probably the best Science Fair Project EVER! Children love to mold these volcanos (ours is made from salt dough) into shape then them make them erupt over and over.
Rocks & Minerals Discovery Day
Children love to explore and learn about all the amazing rocks and minerals they discover. Here are some hands-on activities and ideas you can use to make a fantastic Rocks and Minerals Discovery Day!
Rocks & Minerals Science Sheet
We used these rocks and minerals worksheets on our discovery day. These are great for children to store information about size, color, shape, and weight.
Sorting Seashells
Grab your pail and shovel and head to the beach for some seashell collecting. (or in our case order a bag online!) Then open up your own store in the sand. Use our printable sorting cards or encourage your children to paint their own signs.
Sorting Seashell Printable Mats
Children love sorting sea shells. Simply sorting them by shape makes a great activity for preschool aged. I made these so that my kiddos could have fun aged children, and the older ones love to learn the different names of all the shells. I found so many different "names' for the shells, you're welcome to change them as needed
---