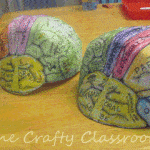 The Human brain is fascinating!  We've got some fantastic crafts, activities and printables you can use during your Brain or Nervous System Unit Study.  These resources are intended to spark intrigue and wonder within your children.  During your studies, consider exposing children to vairous mind benders, optical illusions, brain games and the like.
---
Suggested Resources for a Unit Study:
---
Make a Brain Hat
This is an awesome activity, and really got my children excited about our upcoming lesson on the brain! We downloaded this craft free from EllenJMcHenry.com, where you can find TONS of other amazing science resources
Brain Learning Center
We've got a brain file folder game over on our sister site: FileFolderFun.com There is also a Nerve labeling game for children who are learning about the Nervous System. Both games have a follow up worksheet to "Show you Know"
Printable Brain Puzzle
Help children easily learn the names of the different lobes of the brain by printing out our brain puzzle. Print on heavy cardstock and laminate for best results. Then cut along the dividing lines of each lobe.
Nervous System Charts
Use these charts to explain to children that the nervous system is made up of the brain, the spinal cord, and neurons. These are great for recording key facts from text books to store in your journals or lapbooks
Neon Neuron
Sometimes making a simple construction paper model is a great way to learn more about something. We used some brightly colored printer paper to make these electric neurons and later labeled each part.
Brain Coloring & Worksheets
Homeschool Clipart has a variety of coloring pages, worksheets and notebooking pages you can use to enhance your unit study on the human brain.,
Egg Carton Spinal Cord
I made this to use as a visual demonstration for how the spinal cord can bend, as well as discuss the nervous system with the string also be a great project for older children. Needle/Thread: Egg Carton, Noodle.
Printable Stroop Test
This is a fun activity where children try to say the colors of the color words as fast as they can. (So the top row they'd say, "Red, Black, Green, Blue, Yellow, Red") It's more difficult then it looks and makes for lots of giggles. Ask children why it's so hard?