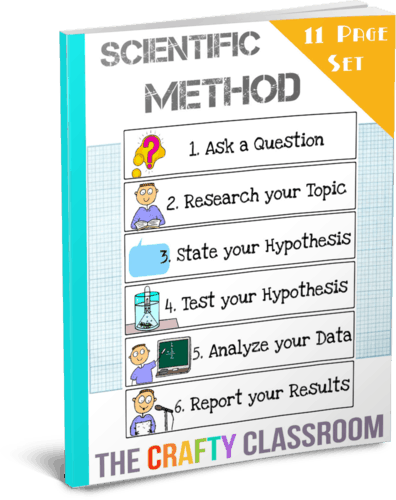 Use our printables to teach children the Scientific Method. You can print the chart and laminate it to hang in you classroom, or cut out the strips for children to practice putting them in order. Great review for children learning to take the necessary steps when preforming an experiment.
Suggested Resources:
---

Scientific Method Posters
This fun, sceience-themed bulletin board set includes: — 9 posters (12″ x 17″ each) that reinforce the steps of the scientific method. Also includes a poster (12″ x 17″) that listsall of the steps Click Here
---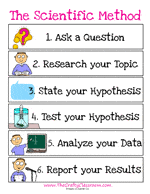 Scientific Method Chart
A printable chart you can hang in your classroom, or give to children to keep in their science notebooks. Additionally, you can cut an extra copy into sequencing strips to aid children in remembering the steps.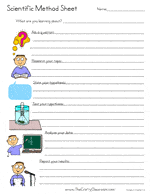 Scientific Method Worksheet
A simple step by step worksheet featuring the scientific method. This is great for review, or even beginning to explain the process to children.

I made these to use with my children as we learn to put the Scientific Method into action. This is a set of 6 steps, that will take children through the process of asking a question, forming a hypothesis, testing with variables, recording, interpreting and reporting information
Step 1: Ask a Question
Step 2: Research Topic
Step 3: State your Hypothesis
Step 4: Test your Hypothesis
Step 5: Analyze your Results
Step 6: Report Your Results