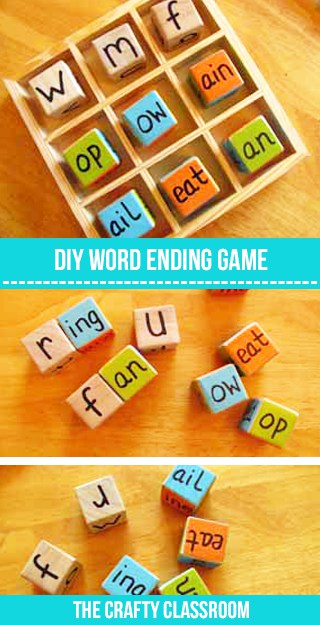 This game is great for children who are learning basic phonics and early reading skills.  Children match up letter blocks to word-ending blocks to create new words.  Keeping score for each assembled word makes this a fun and engaging activity for multiple children.  Find free Word Family Printables on our sister site KindergartenMom.com
Materials:
1.5″Wooden Craft Blocks
Craft Paint
Sharpie Marker or Paint Pen
---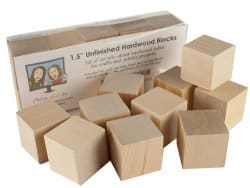 1.5″ Unfinished Hardwood Blocks
Perfect for crafts, artistic purposes, and other uses

1.5″ wooden cubes are made of natural, kiln-dried hardwoods

Set of 10 packaged in a convenient zip-top bag
TIP:Shop around for your wooden blocks, there are discount craft stores that might have them much cheaper!  Or consider purchasing the 1″ size blocks.  They are smaller but you get 32 of them for a better price and children can still read the words without difficulty.
---
Choosing Blocks
We are using 1.5inch wooden blocks but you can easily use smaller (see the link above). Each block has six sides so plan accordingly for how many word endings and first letters you want for your game.
Step 1
Choose how many blocks you want for your game. We are using 6 word ending blocks, and 3 letter blocks.
Step 2
Choose colored paints which are complementary to black marker showing through. (We also used a paint pen)
Step 3
Since we have three different colors we're going to paint each color on the two sides opposite each other.
Step 4
You can use a hairdryer to speed the drying process. Here is a photo of how were are painting the sides.
Step 5
Using a black sharpie marker or a paint pen, write a different word ending on each face of the cube.
Step 6
Write different consonants on each of the blocks. It took three blocks to get most (18) of the letters but you could do 4 blocks to get 24 of the letters.
How to Play:
Have children shake the cubes and roll for their turn. Then have them arrange the blocks to make as many words as they can. As children form the words, let them add up their score. If they miss a word you can help them too!
Extra:
Children can write their word on a piece of paper, this is a great way to sneak in a little extra copywork and handwriting practice.
---
Word Family Printables
Word Families are a group of words with the same ending.  For example cat, rat, mat, hat, bat are all part of the "at" word family.  Learning about word families is a key part of learning to read. Children can pick up on patterns and rhyming sounds very quickly which in turn lends to reading  confidence and success.

Making Words
Making words is a great way to teach phonics and spelling. In these lessons, students incorporate cutting skills, writing skills and manipulation of letters, a total work-out if you will.