With a title like that, I'm sure you're expecting a blog post about
a ginormous amount of dirty laundry, or perhaps an article on a tower of dirty dishes.

Maybe even a photograph of the hordes, yes HORDES of stuffed animal
creatures that have somehow worked their way back into my house
despite numerous trips to Goodwill.

Well, while all those things are quite blog worthy,
today the Pig Pile I'll be featuring is actually a Game!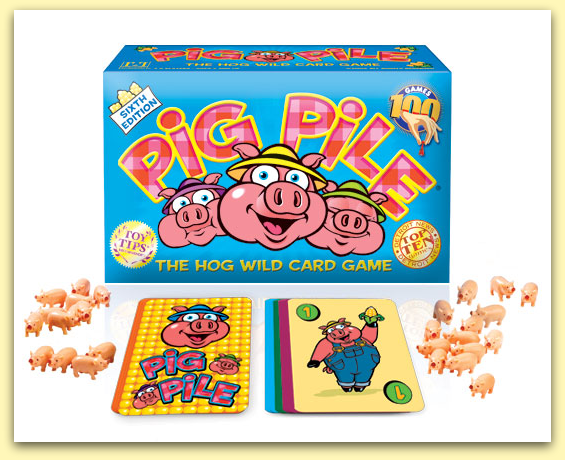 Pig Pile: A Hog Wild Card Game!
$15.95 at R&R Games
(Pssst: Coupon Code CREW20 saves you 20% until 12/31/2011)

Ages 7+ 3-6 Players
Here's a little clip I snagged about the game:
The jig's up! The pig squealed! Over 39 Pink Pigs crammed into a little box! Now it's up to you to let them out! No mud slinging allowed in this fast-paced family game where players compete to corral the most pigs. Get rid of your cards first and be awarded the prime pile of pigs. Sounds easy, but pigs can be slippery! The more cards you have, the better your chances of calling out HogWash! and clearing away the deck! But don't hog the cards too long or you'll get stuck. The player with the largest stockpile of swine after the final round wins. Quick thinking and clever card play determine how high you'll heap your hogs
FOR.THE.LOVE.of.PIGS.
The instructions were a handful.
This card means that, That card means this,
Lay down one card, Pick up Two Cards
DON"T TOUCH THE PIGS TILL THE END
(What?)
And I'm still not 100% sure that we're playing correctly.
But you know what.
It doesn't really matter.
NOT ONE SINGLE BIT
My kids LOVE the PIGS.

And really? Who wouldn't.
Just look at these adorable little piggy faces:


My children want to play with the pigs more then anything,
so we adapted the instructions a bit
to make it so two people can play and,
to make sure those little piggies got played with a bit more.
And once we got a good rhythm to the game,
it was smooth sailing from there!
Really it only took a couple of "tweeks" to get going,
and instantly it was a smashing success.
In fact, this has become their "go to" game
when Mom declares "Quiet on the set"
(i.e. nap time for the other piglets)
If you were to pay our house a visit during nap time
you'd hear whispers of "Hog Wash" and "Ewe Turn",
and sometimes dare I say, "You Win, Good Game."
Sometimes.
They love it so much I've grown tired of telling them to put it away.
It's become a part of our living room decor.

And I love that I can jump in for a few rounds
when I have a spare second to play with them.
Quick and Easy. It's not one of those,
"No pick something else, that's too long and it's almost bedtime" games.
It's one of those, "Hey…how about Pig Pile?" games.
I'm convinced the game is a huge success around here because it
affords my five year old an opportunity to level the playing field with my eight year old.
But it's not just luck of the draw, there is a bit of strategy as well,
which keeps them quite interested….and dare I say "learning" too.
Shhhhh. Don't tell them they are learning.

R&R Games has a variety of other fun family games too!
Some with equally adorable characters like Flea Circus:

Seriously, Pigs & Fleas.
How much greater can life get for a kid?
Don't just take my word for it!
This review is part of The Old Schoolhouse Homeschool Crew,
check out what other homechool families thought of Pig Pile here!
Disclosure: This product was provided to me for free in exchange for my review as a member of the 2011-2012 The Old Schoolhouse Magazine Homeschool Crew. My review of the product reflects my honest opinion.