Can I show you something?
It's kinda pitiful.

The sort of thing that…
IF we weren't in Bloggyworld
and
IF we were…..say best friends
YOU probably would have already sat me down
and had a serious conversation with me.
About THIS:
YOU would tell me that a dried up grapevine wreath
isn't decoration.
That I've forgotten the CHIC and all I've put up is Shabby.
YOU might even come to my house in the wee hours
and rip this thing from the clutches of my front door
before the entire neighborhood realizes that it's been
there for two years without any further decorating.
THEN….If you were really my friend…..
YOU would get pro-active and solve the problem yourself
Silently ordering a special miracle to show up on my doorstep:
And when I opened my front door on this brisk winter day
I would be surprised to see….
Something FRESH:
Something Aromatic:
Something Alive!
There might even be something lush and velvety to tie it all together:
Something bright and cheery….
Something that says,
"Welcome! Come on in and stay a while:"


And then of course I would say, "Thank you!"
(holding back sniffles and tears of joy)
for transforming my shabby front door into something quite festive~
And I would ask you, "Where did you get such a beautiful masterpiece?"
And you would point me to Wreaths of Maine.
Maine? I would say….surprised that it has come from so far
(About 2,500 hundred miles in fact)
YES! You would agree! That is far for a wreath to go,
but the shipping rate was low, only $3.95 in fact and look;
it arrived in perfect condition!
I would agree, It's perfect!
Then you'd go ON and ON telling me
how the wreaths are made from Balsam Fir,
a tree native to the colder regions of New England.
Really? I'd say…. I've never even heard of such a tree,
But it smells wonderful!

You'd be sure to point out many of their other amazing wreaths:
Like this beautiful Bluberry Wreath:


and this Classic Christmas Swag: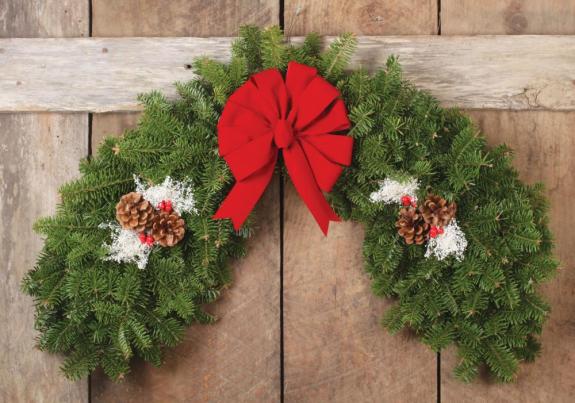 How with their online ordering system YOU CAN CHOOSE
the day you want your wreath to arrive:
How Handy!

And then, most importantly,
You would tell me about the company itself!
How it was founded by a homeschooling family,
who has issued over $250,000 in commission checks
to benefit the fundraising efforts of children all across the U.S.
You'd show me their Fundrasing Packet:
How it was filled with everything a child would need to earn money for
their favorite club, college education, or even to support
their sponsored child abroad.
It's a Win-Win you'd say.
And I'd look up at my festive front door,
and nod my head in agreement.
Disclaimer: As part of the TOS Homeschool Crew I was sent free product for review purposes. All opinions are my honest thoughts about the product.