Big I.Q. Kids
Free Basic Version       Math $49.99/year
Spelling & Vocabulary $24.98/year
Many other subjects ranging $39.99 -$99.99/year
$$ Purchase at Big IQ Kids
Big IQ Kids is a an online subscription service providing teachers and parents with customizable resources they can use as supplemental learning opportunities. There are different levels of subcription available, and subjects are offered separately as Math, Spelling, Vocabulary, U.S. States, Long & Short Vowels, and SAT Vocabulary Prep.  Below we specify the differences between the free and paid versions as well as the pros and cons to each program.

Customize your Spelling Word List
Testing & Practice for multiple subjects
Interactive Spelling Bee

Confusing Ads throughout free version
Price (see below)
Computer generated voices are difficult to understand

Have you heard of 
Big I.Q. Kids
?
Big I.Q. Kids is an online learning program for children
covering Math, Spelling, Vocabulary, and U.S. Geography.
Big I.Q Kids offers Free programs and Paid Premium programs.
I've used the Free spelling programs with each of my children in the past,
so I was semi-familiar with Big I.Q Kids before we were asked to review this program.
First if you haven't yet tried Big I.Q. kids….you really should.
Because they offer the Free options for spelling and vocabulary
you can easily try them out with your children to see what you think.
Additionally you can even sample the Premium version for 7 days to
see if you think it's worth paying for. (btw-I've linked to the chart outlining the differences between the free and paid versions below)
Again, since there is a free version and a paid version,
things might get a bit confusing here, but I'm reviewing the PAID
version for you today.
As part of the Big I.Q. Kids premium version, children get to customize their
character, and just for fun I thought I'd share the ones my children made:
Strikingly similar to their actual daily appearance
minus the pirate hat.
No, nevermind, that's pretty accurate.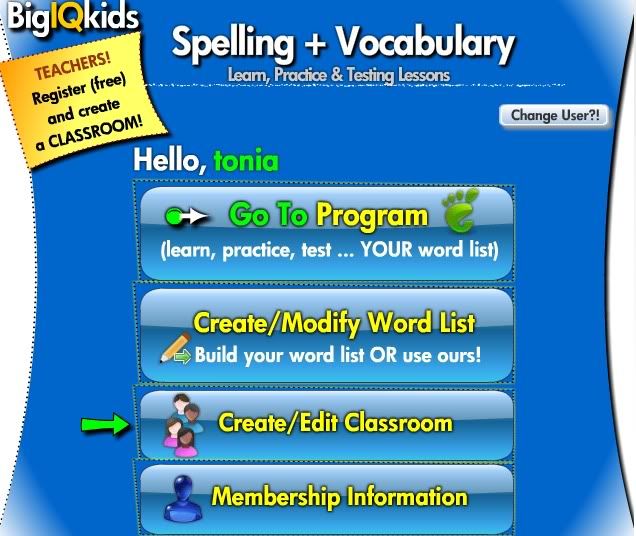 BigIQkids Spelling & Vocabulary: Complete Program is Free!
With a over 40,000 word dictionary, BigIQkids spelling & vocabulary program comes pre-loaded with 40 lessons for K-adult appropriate word lists. Or, as a parent or teacher, you can easily enter your own word lists and the program will automatically create a week's worth of lessons, quizzes and tests around your own list with the goal of achieving 100% on the Friday spelling and vocabulary tests. The program includes tracking and progress reports. You can build your own curriculum or use our default settins. The program is completely customizable and goes around a student's prograss.
What I Like about the Spelling/Vocabulary Program: I love that is free! You can customize word lists, take spelling tests, hear your word, and understand the meaning of your word, and my children's favorite: Take a spelling bee!
What I Dislike about the Spelling/Vocabulary Program:
Computer Generated Voices. These are used throughout all the programs. They take a bit of getting used to. My kids don't seem to mind though, but I wonder a bit when the program is teaching vocabulary and my children are asked to pronounce the word immediately after the computer says it. (I'll also note that my son has a bit of a Speech issue, so I'm hypersensitive to what he is being taught)
BigIQkids Math Program:
(Free v. Premium Membership)
You can set up a child's lesson to mirror what they are doing in their current curriculum. For example, if the child is on double digit addition and single digit multiplication, the program can focus on just these two areas providing invaluable practice and reinforcement that is certain to provide them with the tools to ace their next test. Or, BigMathTime can automatically generate grade specific and subject specific lessons as per your requirements.
What I Like about the Math Facts Program:

If there is one thing I've learned about homeschooling math, it's that we can always use more proficiency with our math facts! They really do have to be MASTERED. And really, the only way to do that is with repetition and repetition and more repetition. This math program allows you to work with children on addition, subtraction, multiplication, and division. These are the only topics covered with the match program and with the timer clock it's really like an online worksheet. There isn't a lesson, or demonstration or anything like that. However, when a child clicks on help, it pops up a small screen with a visual hint for how to solve the problem. Additionally you can really tailor this to fit your child's ability level, and print up the worksheet or set your child up with a quiz.
What I Dislike about the Math Facts Program:
This is a Math FACTS program only. For the price of premium membership ($49.99/year) I would like to see a more expanded Scope of Sequence. Math isn't just about Facts (addition, subtraction, multiplication and division.) What about geometry, and algebra? I have a third grader who is needing these important foundations in math and $50 is 20% of my homeschool budget. Even with the tracking and the customization options, I simply can't spend that much just on Math Facts alone.
U.S. States:
(Free v. Premium Membership)
Every elementary student will be confronted with the need to know their US State facts to mastery. BigStatesTime is the ultimate tool in learning the state's location, capital, spelling, abbreviations and general state facts. The program allows parents/teachers to add additional facts which will be included in the child's lessons and the program culminates in a "State Mastery Exam" that, if passed with 100% mastery, awards the child a State Master Certificate.
What I like about the U.S. States Program:
We loved this program. I haven't found anything on the web that does what this program does, and I appreciate the fact that Big I.Q kids is providing this service. We are learning about the states this year and I love that my children can hop online and hear a few facts about each State. They also practice spelling the state, learning the state capital, and the abbreviation. Immediately after learning about the state they take a short quiz to make sure they were listening! This is a great program. I can set the difficulty level for each child, turn states on or off, and even set up a test.
What I Dislike about States Program:
While we enjoyed the States program much more than any other program on this site, again the price of $39.99/year is a huge chunk of change to us and it wouldn't be something that we could afford. Love the program though, and I'm feeling very blessed to be able to review it.
Overall Thoughts:
In general this is a great program, but the cost is something you'll want to consider before upgrading to a Premium membership. Additionally you should be aware that not only are there advertisements on the free version, there are advertisements in the GAME SECTION of the Premium versions as well. This was actually problematic for my 5 year old who clicked on an ad (thinking it was a game) and was taken offsite to an inappropriate website. Thankfully I was standing close to him and saw that he wasn't on BigIQ anymore, but I was concerned none-the-less.
I emailed the owner of Big I.Q. Kids to let her know about the ad, and asked about their advertisement policy. I thought it was important that I share with you here about the response I recieved:
(Please note this is in reference to the Premium/Paid version)

"We are IN THE PROCESS of creating a totally AD FREE game page. Because the PREMIUM programs DOES NOT have ads in the lessons portion of the program. The only ADs the student can see in the PREMIUM program is via the game page. BUT, a parent can turn the game page OFF which will creaete an AD FREE program but not a happy student. :) We are working on our game page being an AD FREE game page."

-Debra Marcionette www.BigIQKids.com
I posted this just for your reference, so you can also know why you might see advertisements in a paid site. I'm really glad to hear they are working on an Ad-free Premium version, and I for one completely understand the need to support the site with outside advertising. It can be quite difficult and a lot of work to make sure every add is Family friendly, it happens to me all the time, and Debra's quick response showed me that BigIQKids.com was committed to having a safe place for my children to play online.

Overall I am really looking forward to seeing this company grow. I   love to see things like the Interactive Homework lessons, and the Worldwide spelling competitions! I love that Debra provides so much of these programs for Free, and I sincerly hope that the premium version will fit more in our budget in the years to come.
Don't just take my word for it!
This review is part of The Old Schoolhouse Homeschool Crew,
check out what other homechool families thought of Big IQ Kids here!
Disclosure: This product was provided to me for free in exchange for my review as a member of the 2011-2012 The Old Schoolhouse Magazine Homeschool Crew. My review of the product reflects my honest opinion.