This year, in addition to continuting our Ancient History lessons,
we're also going to be learning about the adventures of Lewis and Clark.
Just mentioning Lewis and Clark brings up so many thoughts and ideas for
hands-on crafts and activities. With such a rich topic, it gets a bit overwhelming for me…
and my brain spins a thousand miles an hour with plans!
Sometimes I'm able to get all my ideas in order.
But most often I spend more time "planning" our activities then actually "doing" them.
And while planning is fun…sometimes letting someone else plan can be funner.
(Yup. Funner. And I'm not appologizing)
There are so many different ways to purchase preplanned homeschool curriculum
but Unit Studies have been one of our favorites.
What is a Unit Study?
Why choose Unit Studies?

Homeschool Legacy has sent us their Once-a-Week Lewis and Clark Unit Study to review!
Here's why a Once-a-Week Unit Study
method is so appealing to me:
It's preplanned.
It's organized.
It's simple.
It's inexpensive.
It's hands-on.
It's adaptable.
I've seen many different unit studies over the years, but Homeschool Legacy has some unique components to their products:
Here is what stands out about Once-a-Week Unit Study:

Biblically Centered. The beginning of each week contains a family devotional related to the following study. This is not a simple verse or bible story suggestion, this is a full page devotional that you can simply read together as a family. This was such a great surprise and I love that during this unit I don't have to plan as much.
Includes American Heritage Girls and BoyScout badge completion.
This is really exciting news! I have a daughter in AHG, and three upcoming Boyscouts. I've often felt so guilty about not keeping track of our studies as dilligently as I could to fulfill badge requirements. Once-a-Week Unit Studies has all of the requirements laid out with suggestions for activities to meet them. Amazing, and obviously my daughter is excited to learn that she can "double-dip" her school studies with her badge studies.
Here are some other great features:

-Lots of FREE suggestions for resources, and many of the books are actually stocked in the library.
-Encourages use of a History Timeline
-Hands on activities and crafts! Oh the joy of crafts!
-Factual Information included in the study, and wonderful background history.
-Very organized and easy to follow schedule. You can use this as your core and build around it or use it as a supplement, it's up to you.
-Additional book suggestions for non-readers and early readers so your little ones can join the study.
-Would be perfect alongside a Once-a-Week Co-Op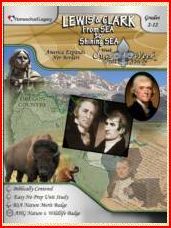 Lewis and Clark: From Sea to Shinning Sea Unit Study retails for $19.99
7 weeks, Grades 2-12
Boy Scout Merit Badge: Nature
American Heritage Girls Badge: Nature & Wildlife
You can read more about what's included here.
Best of all Homeschool Legacy has 10 other Unit Studies!
Knights and Nobles and We The People look especially appealing to me!
If you'd like to read reviews on additional titles check out these reviews by other TOS Crew members here.
Disclaimer: I received a free download of Lewis and Clark Unit Study in exchange for my honest review of the product.