Last year I wrote a post entitled 10 Things I bet ya didn't know about me.

I posted 10 because it's a nice round number, and it seemed like a good place to stop.

But if I had to write a #11, this would be it:

#11. I love to read.
As a child I would read anything and everything that I could get my hands on.
Sometimes this was not such a good thing.
*ahem
Flash Forward 20 years and you'll see that my 9 year old daughter shares my passion for reading.
Christmas and Birthdays are easy for this little girl.
Her stocking is filled with little brown rectangles and she cherishes every single one.
With her I hear, "Can we go to the library" more often then "Can we go to McDonnalds?"
What could be better right?

Well, if you have an avid reader you probably already know that
keeping the bookshelf stocked can be a bit of a challenge.
And if you're a homeschooler you know how wonderful it is when you find an appropriate book….
a Classic even that teaches your children about important facts in a fun, and memorable way.
I believe the term for these types of stories are called Living Books!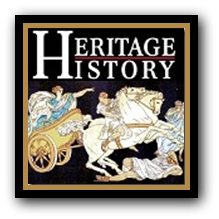 "Putting the story back into History-
Heritage History promotes traditional narrative history. Our online library contains biographies, legends, adapted literature, and introductory histories. All were written for the general reader and are easy and enjoyable to read."
So here's the deal with Heritage History:
Isn't that neat?
Heritage History has over 400 titles, and you can purchase a single book, or an entire collection!
We were sent the Young Reader's Curriculum
Every book in this curriculum was written pre-1923
You can check out theYoung Readers Book List here.
The Young Readers library is one of our largest collections, with over eighty books to choose from. Many of the books in this collect are simple enough for a fluent reader to complete in only a few hours, so avid readers may be able to read dozens of books from the collection before moving on to more challenging curriculums. Reading a few dozen of these books will expose students to hundreds of famous historical characters and will be an excellent foundation for future learning.
Ok.
Stop right here.
I HAVE to tell you that I was a bit worried when I saw that these were pre-1923 books.
Wait….Wait….Wait. Back up even further here.
Let me just say something here:
We are not KJVer's.

I simply can't get through the thee's and the thou's and the thy's
without spitting all over myself
and that never makes for good worship.
Anyway, when I saw that a lot of these books had that old world ring to them,
I was a bit worried.
Read:
A bit worried was I that my eldest would find the text
a daunting reversal of mirrored context, neglecting to partake
in the fanciful pleasure of each winnowed passage.
(I'm 74% sure that actually makes sense.)
In short, I wondered if it was going to be too much for my little 9 year old girl to handle.
Would she get all tongue twisted and frusterated?
Would she just skip over the seemingly backwards sentences and simply go for the general idea?
Nope. She read them.
She understood them.
She enjoyed them.
She wanted more.
(And of course I secretly took Homeschool Mom credit for providing her
such a wonderful resource that I knew she would like)
Ahem.
Actually all of the stories in the Young Readers Collection are chosen
because they are told in a "child-friendly, easy-to-understand manner."
You can read them online to get an idea of the tone.
(Green books are for Young Readers)
Quite a contrast to fact drilling, public school, History books that i grew up on!
What a great way to learn!

Just as a side note here: I believe I remember a certain someone
who used easy to understand parables in His teaching as well.
Just Sayin'
Anyway,I really love that Heritage History is providing these classic stories in an updated format, making it easy for today's homeschooling families. You can easily print multiple copies, and reuse your teaching materials for your upcoming students. Some of the more difficult passages make excellent read alouds as well.
There are also additional resources like Teacher Guides, maps and clipart for you to use alongside the books.
(I smell a Notebooking project)
You can pick up the Young Readers Collection for $24.95
There are quite a few other collections for older children as well, and right now if you purchase multiple CD's Heritage History is running a special deal you can take advantage of!
Be sure to check them out on Facebook, and subscribe to their newsletter.
(Which enters you in a giveaway for a Kindle Fire!)
Overall, I'm really excited about having this resource at my fingertips. I know that I'll be putting our new books to good use, and tying them into all of our unit studies over the coming years.
Disclaimer: I was given a free copy of this product for review purposes. Check out what other TOS Crew Review Bloggers thought of Heritage History!