Always-IceCream.com is an educational and entertaining website exclusively for girls between the ages of 7 and 12.
Ok.
I have a confession to make.
I hope you won't judge me?
(maybe, you can even relate.)
When I was scheduled for this review
I got a tad bit worried.
Ok….more honestly then that…..
I had an anxiety attack.

There I said it.
I know it's horrible.
But it's the truth.
And I'm pretty sure that the point of a review is to provide my HONEST opinion.
Right?
So….what's so scarry about Ice Cream?
Nothing really.
(I could eat pistachio almond for days and not complain)
But I was a bit nervous (read: worried, anxious, cold sweat)
about letting my daughter participate in an online virtual world.
Petrified.
So you can be sure that the very first thing I did
was to check out all the Parental Controls.
I didn't even look at the website….I went straight to the control board:
I wanted to post about this UPFRONT so you'll
know about the logistics BEFORE you fall in love with the site.
So here's the skinny:
You get all the control.
I know.
Pretty simple and straightforward, but Amazing!
A website that puts Parental Control first,
allowing you to be in the driver seat and
responsible for your OWN children's experience.
Who'd have thought?
Sounds strange, but that is quite a rarity now-days.
In fact I'm pretty sure that's how the website came about:
Dr. Johannes Ziegler came up with the idea for Always Icecream when he was looking for an appropriate internet website for his three daughters. In search of a site that combines safety, fun, educational value and online networking he was unhappy with the existing sites. That's how the idea for Always Icecream was born."

Always Icecream has been certified by the Privo Privacy Assurance Program to be in compliance with the rigorous standards defined in the Children's Online Privacy Protection Act (COPPA).
Delving even further into the site I was surprised to find this little nugget of gold in the FAQ's section:
Does Always Icecream teach evolution?
At Always Icecream we try to exclude content, such as evolution and the origin of life, that is contentious in some communities. There are plenty of educational subjects that are taught and appreciated by parents and teachers of any worldview. These are the areas that girls can practice on Always Icecream.
Wait a minute.
You mean I'm free to teach my OWN children
about the origin of life?
Really.
You're not going to sneak in some educational "science"
videos that tell my children
they were once worthless pond scum.
Hey. Thanks!
No really. THANK YOU.
Because This is the Very First educational community for children (that I've ever seen)
that recognizes the role of the parent as the entity in charge of the children's spiritual education.
Not only that, but there are Christian games that teach bible facts, and scripture memory:
Wow.
I'm pretty speechless here.
Better start showing you some of the screenshots!
There are tons of Educational Games, covering topics like Geography, Typing, Science, Language, Math and more…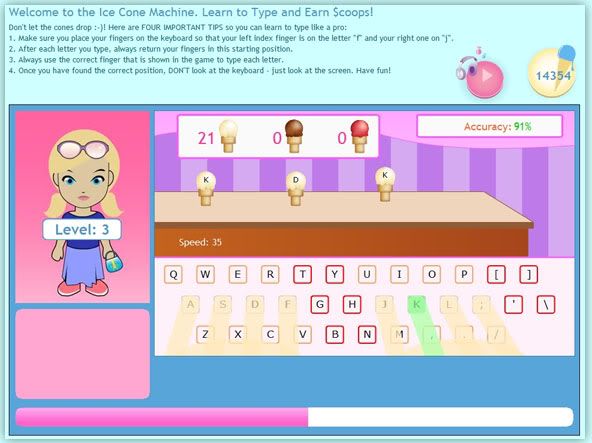 There is even a Virtual Pet World: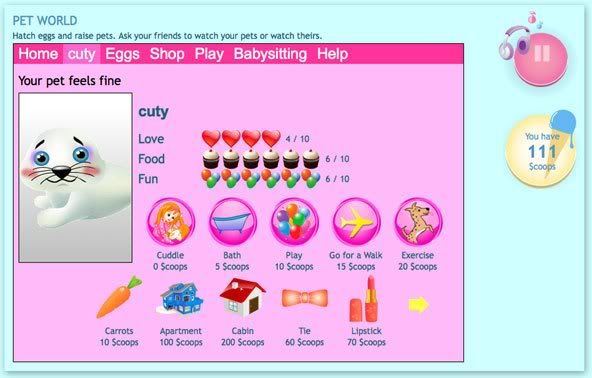 There are also a slew of Educational Videos, little Miniworlds, Design Studios, Shops, and lots more!
Pros:
Parental Controls are AMAZING.
I can really fine tune exactly what I want and don't want to be available
Most importantly there is the option to turn off community features
(such as eMail and Chat)
Website design is Pink and girly.
It's NOT "glittery" and "flashy" or in poor taste.
Games are Educational and Fun at the same time.
There are even Christian games to work on bible memory work.
Emphasis on Entrepreneurship by running a Store.
Girls can create artwork and furniture and sell it in their own store.
Avatars are the BEST that I've seen as far as keeping things modest.
There was one outfit that I had a problem with (see cons below) but I applaud
the creators for doing so well in what kinds of clothing the children can choose from.
Children can invite their Real world friends with a secret code
and there are partnership opportunities for your clubs and groups.
Cons:
I only have TWO concerns about Always-IceCream:
(Those of you who know me, understand that is probably a record)
Avatars have ONE outfit that I would call Skimpy Clothing
(speghetii straps and short skirt)
It's not extreme. It's just something we don't promote in real life,
so I find it inappropriate for "virtual" life as well.
There is a bit of an overall theme of commercialism.
The Goal of the game seems to be to amass more and more scoops of ice cream in order to "purchase" more and more stuff.
There are different levels of houses and furniture to put inside the houses, then pets to feed ect.
I don't agree 100% with the message, and I'd love to see a "bank" or "charity" option
to somehow teach children to Give, Save, Spend along the way.
*UPDATE: Upon emailing the owner of Always IceCream I was informed that sometime in the future
it might be an option to contribute scoops to a charitable organization.
(A real live one too)
Score! That would just be the cherry on top if they are able to work something like that out.
And it was a blessing to see this organization respond so quickly with a genuine heartfelt desire to see something like this in action!
So what's my Overall Opinion?

This is probably on of THE best virtual children's site I've seen,
I think It's a fantastic alternative to the crazy, flashy, ad-ridden sites that
leave your children open to too many harmful images and distractions.
I believe it's well worth the membership fee just for the educational activities alone,
but the commitment to Spiritual Safety is what really brings out the value of this program
The Cost for a Membership:

$4.99/month or $29.99/year
There are also lifetime memberships available as well.
This would make a fantastic Christmas present for your daughter!!
(And you can Test it out with this Free Trial to see what you think first)
Disclaimer: As part of the TOS Homeschool Review Crew I was given a lifetime membership of Always-IceCream.com in return for my honest opinion about their product.
Don't just take my word for it!
This review is part of The Old Schoolhouse Homeschool Crew,
check out what other homechool families thought of Always IceCream here